At this point, I don't even care if Magic Mike's having any kind of plot or not. All it takes is Matt and Joe in fedoras. Other clothing optional. I wish that movie were in 3D, though. Shush, you were thinking it too.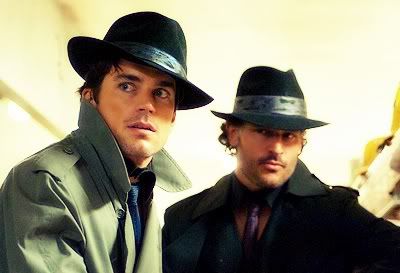 [original from palmhardy @ tumblr ]

In other news, there's a new sneak peak of White Collar's season 4 premiere over here.

So great to see Barry's still his quirky Mozzie self. He's also apparently too busy living the bohemian, island life than to bother with something as trivial as shaving. I must say, it does have a certain appeal. *shifty eyes*

Gotta say, I do like the new girl. She's not easily fooled and throws Neal's metaphors right back into his face, your open book's a work of fiction. Definitely looking forward to Neal trying to woo that one. Haha.

19 days to go. Woot.