All hell tears did break loose. It's official, this episode broke me and there's just no glue to fix that. At least not for the next 4 months.



Carry On My Wayward, Son and a montage scene is so not helping to get me through this dry eyed.


Jensen is one magnificent actor. Dean's speech to a too still Sam lying dead on the bed about their childhood and how he tried to protect him and how he failed his one task, all trembling voice, whispered words and desperate shout into the room gave me shivers.


All the emotions in that episode were so intense it made me wibble on my chair. It broke my heart to see how devastated Dean was by Sam's death and how he not only didn't bother but how he welcomed the idea of the world to end. Oh Dean!


Demon deals suck. One year! Well, let's try to see the bright side, season three is bound to be bursting with the angst.


Dean sold his soul for his little brother. *wibbles*


This crossroad demon is mighty fine. She's just this bit more superior in playing around with Dean than the one from Crossroad Blues


We got our hug, dammit. Finally. And it had me tearing up with the one and sadly smiling with the other eye.


An iron railroad Devil's Trap is so creative. I kind of dig our writers.


I love Bobby! Period. His heart to heart talk in the car park must have been one of the best of the whole season. Bobby yelling at him, offering some kind of fatherly concern was something Dean needed in that moment.


Dean begging Bobby not to tell Sam made me ache just so bad for all three of them.


If you ever run out of pretzels, go buying new ones, it might just save your life.


Oh Sam, I just hope it's entirely YOU who came back, you're starting to scare me.


Those Winchesters keeping things from each other is never a good thing. Sam better have good reasons for lying to his big brother about what the demon showed him.


In respect to Jake's comment, Sam has loads of more powers stored in his freaky mind and I hope we're going to see some of them next season.


The relieve in Dean's eyes when John climbed out of hell, saved them and moved on was so bittersweet. Hopefully, it'll give Dean some peace of mind knowing John isn't burning in hell for him any longer. And there's also hope that it can be done again. If it should ever come down to it, I'm sure Sam'll march into hell himself getting Dean out of there again.


Don't you get mad at me. Don't you do that. I had to. I had to look out for you. That's my job. *sobs*


Guess I gotta save your ass for a change.
You do that Sammy!


So, the army's unleashed and the war's just started.


The ending is brilliantly framing the demon's story line mirroring the ending of The Pilot only now it's Dean who has nothing to lose. *bawls*


I kind of want to hug the both of them right now.


Bobby, you too. *glomps*


Supernatural made me cry. Again. I love walking to uni all puffy eyed and blank stare. Thanks for that, Kripke.

And just because I'm at a loss of words, a few of those moments uncommented.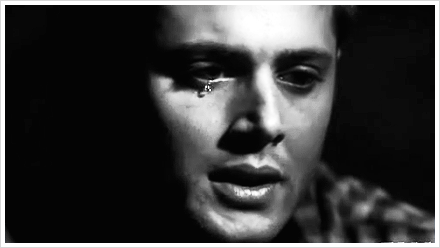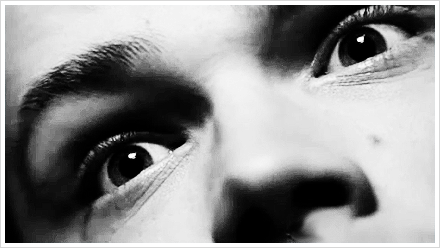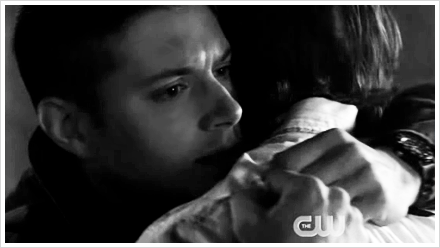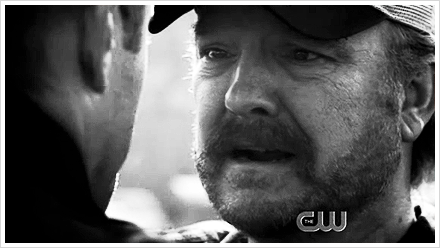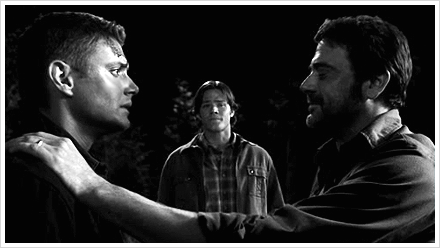 And really, I don't know how many of those single Dean tears I'm able to take. There's only so many times a fangirl's heart can be broken.


Any ideas of how to make it through the summer break?! *needs purple nurple*